Mission Statement
TMC Concrete Coatings & Finishes' Mission is to provide and install the best quality concrete flooring coatings and finishes for our customers by working in partnership with their project team to achieve their goals.   We believe in open communication, work consistency, and timely responsiveness!

TMC is a concrete coating and finishes subcontractor that installs superior flooring systems in commercial spaces throughout New England. We install Concrete Stained and Polished flooring as well as Resinous Flooring systems that include Epoxy, Urethane Mortar, Waterproofing, and Sealers. We give detailed attention to our customers' needs and assist them to resolve flooring related challenges that may arise during a project. We take pride in our crew members' long-term employment, training and skills in order to provide the best quality workmanship.
Personal Attention – Project Focus – Quality Control
Who We Are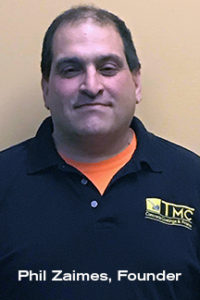 Phil Zaimes, founder, has more than15 years of experience managing projects to install industrial decorative resinous concrete flooring systems, as well as, concrete floor staining and polishing throughout New England. Phil founded TMC Concrete Coatings & Finishes in 2012, after leaving his former partnership of over 10 years, so that he could invoke his desire to work in a "family" atmosphere. Many of TMC's crew members have been working with Phil for more than 10 years and are family related including: brothers and their nephew; a father and son; and cousins. One year after TMC's inception, Phil's brother Leon joined the management team to oversee the financial and administrative areas of the business. Leon is a CPA and brings 35 years of financial management experience to TMC. TMC embraces all of its staff and crew as if they are part of a family and encourages their continued professional growth and development.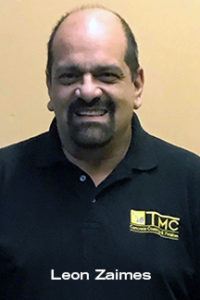 TMC's long-term dedicated crew allows their years of skills and craftmanship to understand the customers' needs ensuring installations of top quality decorative and highly durable flooring systems are completed. TMC installations include various resinous flooring systems: epoxy and urethane mortar, chemical resistant flooring systems, anti-static systems, heat resistant systems, high traffic and use systems, traffic deck coatings, polish floors with various color options and GREEN environmentally friendly systems. We are mindful of dust and safety issues while a business is still in operation.
A safe workplace is one of TMC's top priorities. We conduct routine safety meetings and provide continuous on-the-job oversight and training for all our crew members. TMC has a written safety plan and procedures. All crew members are OSHA trained and possess an OSHA 10 or 30 certification.
We understand the many challenges that may arise or the need to continue a business's operations during flooring installations such as the power requirements and dust control. All of our grinding equipment use certified HEPA Vacuum Systems that are connected directly to the equipment to ensure dust control. If needed, negative air equipment is utilized when appropriate.
Our customers continue to rehire TMC for their multiple projects because they know that we will assist them in selecting the most appropriate flooring system as well as designing solutions to resolve construction related issues that may arise during a project.
We value our Personal Attention, Project Focus and Quality Control.
Please let us know how our experienced team can assist you with your upcoming project.
Thank you,
The TMC Concrete Coatings & Finishes Team